Join the leading online marketplace for corporate and private venue hire
Find clients with ease, increase bookings and earn more
In peak days over 10,000 event organisers are searching Tagvenue for their perfect event space.
We'd love to introduce them to your venue.
How it works

List your venue for free
Listing your space on Tagvenue is and will always be free. Just click here, fill out a short form, and start collecting new bookings.

List and delist when you want
We give you the freedom to open or close your venue listing whenever you want. With no lock-in contracts, you're always in control of your property.
Access 10,000 potential customers daily
Thousands of people use Tagvenue every day to find a perfect venue for their corporate and private events. Reach users interested in what you offer.
Use Tagvenue alongside other platforms
Using Tagvenue gives your venue additional visibility and increases your bookings.
Control your availability
Only during the weekdays or just on the weekends – at Tagvenue you decide when you want to hire your space.

Free support
Busy or not quite tech-savvy? Get free expert help from our account managers. We will help you setup your profile and make sure you stand out from the crowd.
Who books with Tagvenue?
Corporate Clients
We established a relationship with big and small corporate clients searching for conference venues, corporate event venues, meeting rooms and corporate party venues.
Some of the brands who trust us:
Private hires
Every day thousands of people are searching through Tagvenue for private party venues, wedding venues, minimum spend venues, restaurant venues and, last but not least, for the most unusual and quirky venues.
H
Tagvenue is my new go to place to find good venues for parties and events. I had no idea we could find reasonably priced venues in London until coming across Tagvenue!
C
Really great way of finding a suitable venue for a party. It was so easy to find a specific type of venue, and then get a quote. I will always use this site in the future.
S
It was really easy to find a wide range of potential locations, and I could contact many different venues with ease. Tagvenue allowed me to be very dynamic when organising my event. Would definitely use again!
A
Tagvenue has a great and easy-to-use website. I appreciate how easy it is to filter results and search for exactly what I want. My support contact, Sofia, was also very helpful in ensuring everything was running smoothly and according to plan.
How to get started on Tagvenue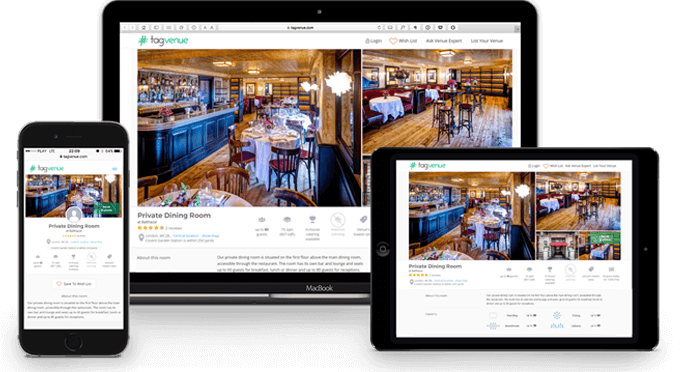 Fill our registration form in less than 1 minute
Set up your profile, add photos and rough prices
Publish your venue in 1 click
Event organisers love us. Don't take our word for it.
See what our customers have to say. See reviews
Sign up to start filling your booking calendar today