Top 10 Ways to Improve Mental Health in the Workplace in 2022 (for Remote and Hybrid teams)
Published on 12th May 2022
Virtual events
›
Top 10 Ways to Improve Mental Health in the Workplace in 2022 (for Remote and Hybrid teams)
The environment of your workplace is vital to your employees' well-being. While many companies host activities to commemorate Mental Health Awareness Month, it's crucial to check on your employees' mental health all year round. It's never too late to host activities that can support your staff's mental and physical health! Why not give our ideas a try to genuinely support your employees' well-being?
Why is it important to host mental health activities at work?
Holding Mental Health Awareness workshops and training helps to reduce the stigma surrounding mental illnesses such as depression, anxiety, and PTSD. With approximately 280 million people in the world having depression, it's more important than ever to raise awareness and make changes at work to create a safer and healthier workplace for everyone.
What is Mental Health Awareness month?
It's one full month (May) dedicated to raising awareness about mental health issues. It's an opportunity to reflect on mental health issues in the workplace, and how they can affect employee well-being. Many employers take the time to focus on educating employees about mental health issues during this time of the year to create a healthier workplace for everyone. However, the well-being of employees shouldn't have to be limited to a month, it should be an essential element of every company's work culture.
To help you plan a meaningful and engaging experience that improves workplace well-being, we've compiled a shortlist of our 10 best ideas for celebrating Mental Health Awareness with your remote and hybrid peers.
Help your team tune in with their body and mind with a mindfulness meditation session. Hosted on Zoom, these sessions require no prior experience and are excellent for reducing stress and anxiety These 30 minute-sessions are an ideal way to kick off the day with a Zen attitude. This activity only requires access to Zoom, making it ideal for hybrid and remote teams.
How can a mindfulness session improve mental health in the workplace?
Mindfulness sessions are an easy and meaningful way for teams to unwind in a supportive atmosphere. Mindfulness helps produce new neural networks in the brain which in turn, helps people find new and better ways to cope with stress and emotions at work.
Duration: 30 mins
Pricing: from £2.5/$3 pp
Group size: 5-250
Equipment: Yoga mat/Beach towel
Yoga has become a favorite among many remote employees. Companies like Pinterest have included yoga, aerobics, and other classes as employee perks to get their staff moving. Yoga requires only a beach towel or a yoga mat! Sitting at a desk for more than six or eight hours may cause back and neck pain. Yoga improves posture, reduces fatigue, and also helps sore backs!
How can a yoga session improve mental health in the workplace?
The Bespoke Online Yoga Class is designed for remote workers. Weekly or monthly sessions can reduce stress levels and increase team morale and engagement by allowing everyone to participate simultaneously, regardless of distance.
This session will teach employees mind-body techniques to manage their well-being. As a low-impact exercise, Yoga is known to release feel-good chemicals which reduce anxiety and improve mood.
Duration: 30 mins
Pricing: upon request
Group size: 5-250
Equipment: Yoga mat/ Beach towel
Scented candles aka the ultimate mood lifter. Candle-making experiences are a creative way to relax. With a kit delivered to their doorsteps, employees can fully engage in creative art and be rewarded with a handmade candle that they can burn in their home office for some good vibes. Participants will be guided by our professional host throughout the candle-making process.
How can a candle-making class improve mental health in the workplace?
Working with our hands is known to do wonders for our bodies and minds. Since patience is a learned skill, it provides employees the perfect opportunity to cultivate patience while working on a craft project. This workshop will not only teach participants how to make their own scented candles but also how to turn their home office into a Zen sanctuary.
Duration: 60 mins
Pricing: £65/$90 pp
Group size: 12-150
Equipment: Candle-making kit (Delivered to your doorstep.)
Art therapy enables participants to express themselves through exploring their creative side. It also offers many benefits for mental health. Art can help with anxiety and depression; drawing and painting improve memory and reasoning. Even if your employees aren't artists, painting can be a great mental health outlet. Oh, and the drink that comes with the online painting session is also a great way to relax after a long day!
How can a painting class improve mental health in the workplace?
These Paintvine classes are all about painting or creating a sculpture with your own hands. All of the equipment is delivered to employees, so they don't have to worry about anything. Employees will also enjoy a chance to sip some wine – known to improve cognitive performance when consumed moderately. Painting can act as an emotional release and enable your employees create something beautiful while relieving their mental strain
Duration: 60/90 mins
Pricing: from £32/$45pp
Group size: 15-100
Equipment: Painting or sculpture DIY kit (Delivered to your doorstep)
Chocolate tempering classes are a perfect bonding experience for remote and hybrid teams. The classes start with some chocolate tasting, which as you may already know releases mood-boosting hormones. Chocolate, like exercise, enhances serotonin release and can alleviate depression. Science aside, this Belgian Chocolate Tempering Workshop will put everyone in a good mood, as they relax and socialize.
How can a chocolate tempering class help improve mental health in the workplace?
These classes will delight your employees on a number of levels. The warm chocolate will offer a delightful experience both for your employee's palates and their other senses. The class is also an opportunity to help your employees enjoy the rewards of qualities such as patience and perseverance as they master a new culinary skill.
Duration: 60 mins
Pricing: $65 pp
Group size: 15-50
Equipment: Bowl, silicone spatula, food thermometer, small spoon, microwave, parchment paper, ingredients (delivered)
6. Breaking Bread Fridays (for hybrid teams)
As a hybrid team, we know it can be difficult to communicate with everyone at Tagvenue, so we created the breaking bread tradition. It's not only an age-old team-building exercise but it's a great way to get everyone at home to gather together as we share a moment over croissants and juice or coffee. Smaller teams work better together when they have a chance to talk and mingle.
How this idea improves mental health at work:
Everyone enjoys free food. Employers, who encourage Friday attendance not only boost employee morale and productivity, but also make them feel like part of the company, or should we say, family? Getting people out of their homes and offices can help prevent burnout.
7. One-on-one sessions
At Tagvenue, one-on-one sessions have been a must since the start of the pandemic. During meetings, we focus on giving and receiving feedback, recognising and celebrating wins, and listening to colleagues. Employees should not feel reprimanded at any time during the meeting, as the goal is to promote personal growth and ensure employee satisfaction throughout the meeting.
How this idea improves mental health at work:
One-on-ones are free mental health check-ins that can improve employee performance. It allows employees to express their concerns and gain insight into what may be affecting their performance. It's also a fail-safe way to connect with employees. Read more about managing remote teams here.
8. Create a Slack channel dedicated to gratitude
It turns out that you don't have to only celebrate your victories or express your failures when at work. This Harvard study shows that expressing gratitude is important as it helps to acknowledge the good things in life. Creating a gratitude wall on Slack helps people see how others' actions can contribute to their own happiness.
How this idea improves mental health at work:
Expressing gratitude allows employees to connect to something larger than themselves, whether it's the company's culture, the team, or something else. It also encourages employees to feel more positive emotions and fully enjoy good experiences.
9. Hold a Weekly Mental Check In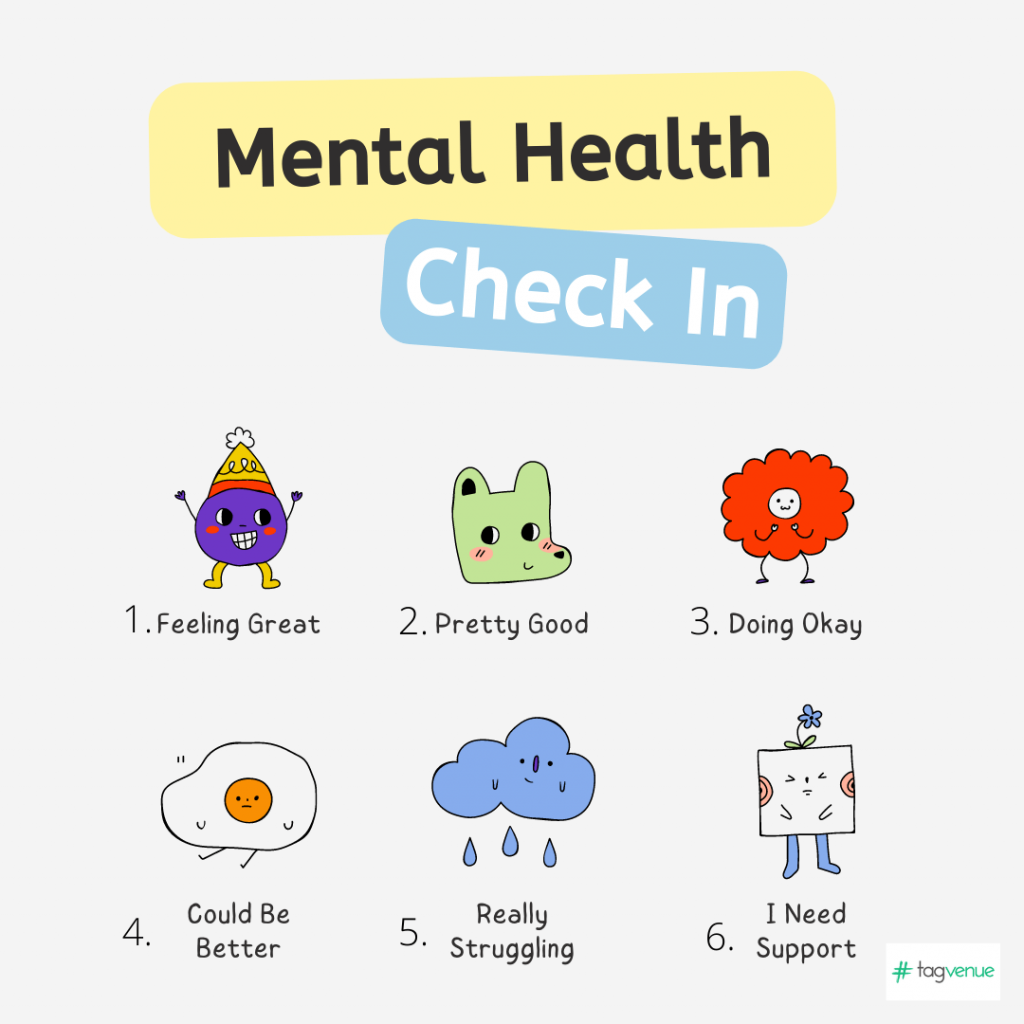 Words don't mean much without intent or follow-through, particularly when it comes to employee wellness. A simple gesture can sometimes mean a lot to your employees. Start with a weekly team mental check-in on Mondays or Fridays to see how everyone on the team is doing. We suggest doing it on communication apps like Slack to allow all members to simply vote on their overall mood during the week.
How this idea improves mental health at work:
These small steps can have a big impact on employee morale and make them feel truly supported by their peers. Burn-outs can be avoided by observing patterns over time. If you see signs of incipient burn-out, discuss your concerns with the employee in question and discuss ways you can support them.
10. Online pet show and tell
It's a well-known fact that pets ease loneliness and help relieve stress, anxiety, and depression. So why not host a virtual pet show and tell, and let everyone talk about their fur babies or scaly friends. Who knows? Maybe some of your colleagues might even consider adopting a pet after this.
How can this idea improve mental health in the workplace?
People love talking about their pets! It's an excellent way to encourage people to share their personal stories and get to know each other. You might even discover some things about your colleagues during this activity. It doesn't cost anything and gives everyone the chance to relax and enjoy some virtual cuddles.
Final Thoughts
Mental well-being can be enhanced through learning new skills or through simple changes at work. New skills and experiences not only boost self-esteem but also help employees connect with others and de-stress. Virtual activities make it easier for employees to actively engage in events that positively affect their mental health, so make sure to include some of the above in the workplace.
FAQs
How important is mental health in the workplace?
Workplace mental health is vital. Companies that promote employee well-being reduce absenteeism and maintain employee productivity. Employees have better relationships and morale when their mental health is taken care of.
How can we improve employee mental health in the remote workplace?
There are numerous ways to improve employee happiness. Making awareness of mental health issues part of your workplace culture can help. There are many ways to do this such as setting up challenges to encourage employees to exercise. You may also consider holding mindfulness sessions and other activities to help employees relax, enjoy peaceful moments, and let go of workplace stress. This type of activity can be anything, from a meditation session to a chocolate tempering workshop.
What are some free ways to improve the mental health of remote employees?
There are many free ways to improve the mental health of your remote employee. Here are some of them:
Celebrate Mental Health Awareness Month to encourage employees to openly talk about their struggles. Simply set aside two hours for everyone to gather and discuss mental health. If you have a remote team, use Zoom or Google Meet.
Dedicate a channel to gratitude on Slack. Showing gratitude can be a simple shoutout for their weekly wins or a personalized meme to uplift their mood.
How can virtual events help workplace wellbeing?
Since 2020, most teams have been working remotely. The activities listed above as well as the other activities mentioned can help employees get a dose of all that they've been missing: creativity, interaction, cultural experiences, and, most importantly, relaxation and fun. Our virtual events make it easier for individuals to re-connect and feel less isolated.
What should I expect from Tagvenue's virtual Mental Health Awareness activities?
Relaxation and joy. Our professionals will teach your team something new while keeping the mood light. For example, our candle-making classes combine a craft with a dose of aromatherapy. Other virtual events, like yoga or breathwork classes, can change the vibe of the home office by re-energizing employees. Always consult your team before choosing an activity.